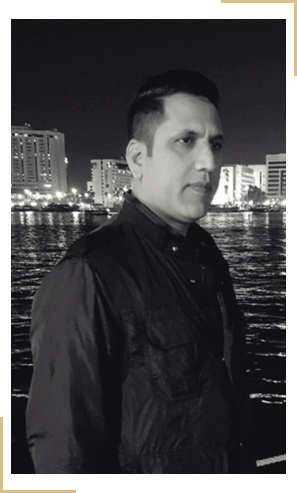 MD's Message
Dear valued customers,
From humble beginning in 2003, The Uniforms Company LLC has been on an epic journey towards business excellence and its prom- ise to deliver the very best to its customers. Our business success is deeply linked to our relentless research and innovativeness backed with stringent quality and service. TUC depicts its vision to become "The symbol of Care" not only to its discerning customers but also towards its employees and business associates.
We are delighted to announce the launch of our designware label VERGE. to underscore our commitment to transformation and evolv- ing client expectations.
We have taken various initiatives in catering to the escalating demands of our diverse clientele across many emerging sectors from Aviation to Hospitality, Education to Healthcare, Security to Govern- ment establishments, Military to Commercial across GCC and Africa region.
From painstaking selection and procurement of fabric and other raw materials from some of the choicest suppliers from the United Kingdom, Thailand, Hong Kong, South America and United States of America, to crafting every design, our clan of highly talented and professional stylists and skilled personnel understand the modern day requirements of our every discerning customer.
Our entire work force, from procurement to delivering the finished goods, is well aligned with the company's underlined objective of maintaining quality at all levels and ensuring timely delivery at any geographical location.
I, along with the entire team at The Uniforms Company LLC. invite you to the world of TUC design solutions.
Warm Regards
Muhammad Nadeem