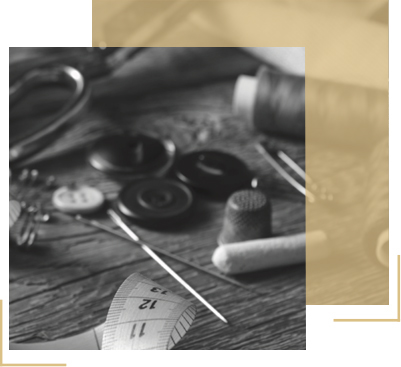 Services We Offer
Initial Consultation
We know that in order to deliver a tailored solution it must start at the most important point, with the customer. Through an initial consultation, the team will gain knowledge and understanding of the requirements of both the staff and the business itself, devel- oping garments that re ect and adhere to the day-to-day demands of the customer.
Design/ Research
By encouraging clients to involve all deci- sion makers and wearer groups in the de- sign process from the outset, we can be sure to deliver a corporate image of which staff and management will be proud. Using design boards, fabric swatches and sample garments the team of commercial designers will create a unique look for the business encapsulating both the brand and, most importantly, the people.
Wearer Trial
Before an order is committed to bulk pro- duction, we recommend a trial wear peri- od. Selected staff can test the garments for style, comfort, fit, durability and 'washabili- ty'. Any modifications can then be made be- fore the final samples are signed off and full production begins.
Continued Service
Once goods are delivered, our dedicated account manager will remain in contact to respond to any queries, questions or feedback that you may have, thus helping to maintain a consistent level of service throughout the contract period.