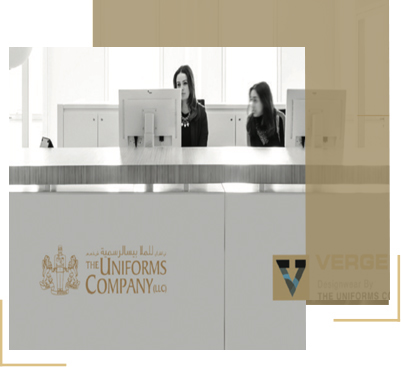 Profile
"CORPORATE COUTURE – Stitched to perfection" is not just a statement but is the founding principle of The Uniforms Company LLC. Headquartered in Dubai, the company has evolved as an un- rivaled specialist in designer uniforms. From painstaking selection of fabric to procurement, and from designing to stitching, every mi- nutest detail is looked into, to ensure utmost customer satisfaction. Our specialties include designing and manufacturing of high quality uniforms and uniform accessories for the Airline Industry, Hospitality, Industrial, Civil and Military Sectors, to name a few.
We constantly strive to surmount the industry challenges by modern- izing our equipment and continually keep on enhancing our person- nel skills to match the requirement of the modern day.
Under the aegis of an able and expert management, the company has stretched its sound footprint across many emerging markets in GCC and South East Asia.
Our Mission
Ensuring personalized attention to customers' needs and providing effective designs with a proactive approach.
Ensuring that the solutions are exible to suit each customer with a focus on high service standards, on-time deliveries and competitive prices.
Continually building our skills and knowledge to meet the growing and diverse needs of customers.
Sustaining our reputation as the most reckoned source for quality uniforms in the region.Achieving profitable growth, operational and organizational excellence without compromising from our values and business ethics.
Our Vision
Re-defining the standards of 'customer service' by exceeding customer expectations.
Being admired for our business values and ethics.
Keeping our name synonymous with reliability, customer satisfaction and innovation.