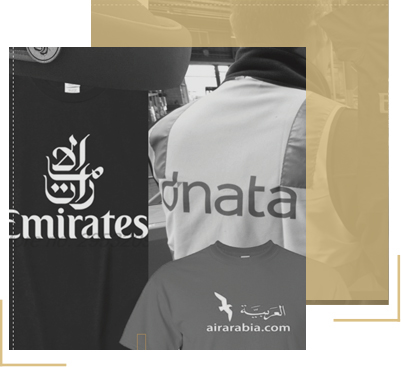 Branding
Embroidery
We carry out various embroidery patterns for branding of any ordered garment or ac- cessory. Company name, logo or motif, as well as individual staff names can be em- broidered in almost any size, at any place. Helping to reinforce corporate identity and awareness, embroidery is a cost-effec- tiveyet proven option.
Screen Printing
This is a common method used for achiev- ing a striking, sharp edged logo and/or de- sign on casual garments, be it a polo shirt or a cottont-shirt. All that is needed is high-res- olution coloured artwork (to size). Our team is on hand to offer advice or quotation for this service.
Heat Seal
Unlike embroidery, heat sealing allows for finer detailing to be achieved, be it on work- wear,outerwear, shirts or even blouses. In addition, we can provide encapsulated, re ective transfersfor use on high visibility clothing.
Tabbing
This is a highly recommended method of branding. Tabbing is a stylish yet cost-ef- fective way to establish a corporate identity. The company logo or motif is incorporated into asmall woven label that can be posi- tioned on the garment as discreetly or as prominently as required.
Your Own Logo
Working with customers every step of the way, TUC will establish and advise the best method and solution for achieving the right- corporate uniform and branding. All that is required from the customer is a copy of the logo artwork in the size and colours required.